Information technology is an integral component of corporate life in today's world,
and companies are becoming increasingly dependant on a tech-savvy workforce.
Our expert I.T. trainers will deliver the tools & know-how for you to run
with the times – and stand out from the rest
In recent times, technology progressed rapidly. Computer systems, the internet and information technology in general have, somewhat ironically, all become more involved. Businesses need to keep abreast of said innovations if they are to remain efficient and retain their competitiveness.
Key Solutions' Skills for the Future Course has been designed through the perspective of several I.T. professionals, and comes with all the latest ideas, and tricks to keep you ahead of the game.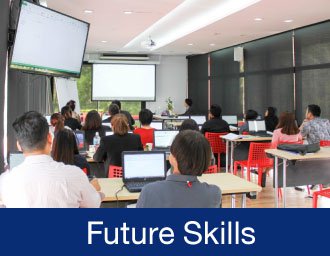 Digital Marketing การตลาดออนไลน์สำหรับองค์กร
Intermediate Advanced Excel
การใช้ Dashboard และ การวิเคราะห์ข้อมูลด้วย Excel
Fundamentals of Power Point
Power Point & Presentation การใช้ Power Point และ การนำเสนอ
Fundamental Microsoft Word