We live in a globalized world, and the demand for English language – spoken & written – is becoming ever more apparent.
Our in-house trainer will conduct a needs analysis, and endeavor to design a perfectly tailored course with the necessary tools. He will also deliver it in a fun & relaxed manner – that will not only enhance your skills – and in turn – your company's competitiveness – but also make it a thoroughly enjoyable experience!
In today's global world of such intense competition, organizations must prepare for change. ESL development is considered one of the key elements necessary to remain relevant and ideally, ahead of your competitors…
ESL is becoming more & more visible in every day life, be it reading, writing, listening or speaking, emailing, giving presentations, etc., our bespoke courses come in three levels: Beginner/ Intermediate / Advanced. Key Solutions' in-house trainers, from Thailand & the UK, pride themselves on providing fun classes in a relaxed atmosphere that will build your confidence quickly, and keep you coming back for more!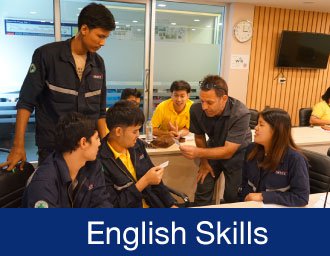 Effective English Communication
English for Customer Care
ภาษาอังกฤษเพื่อการติดต่อธุรกิจ