Amazing race

This amazing challenge begins with a fun-filled introduction. After being given a brief lowdown on how the game works, your group will be split into teams and given race kits. You'll need your smart phones handy to download our signature application, as well as a pair of strong soft shoes and plenty of energy, in preparation for possibly the most fun you've ever had at work.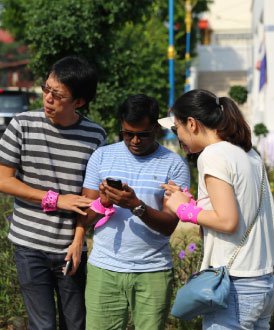 This flexible activity can accommodate groups of between 10 – 250 participants. Split into teams, you must find clues, answer questions, and complete challenges (team & individual), against the clock as well as against other teams.
There are no limits regarding design aspects of your event. We can tailor a course with your company specifically in mind, and or base it on any number of other cultural aspects, offering plenty of scope to guarantee a fun & memorable occasion for all!
This activity nurtures unity. Brainstorming, the ability to think on your feet, as well as a decent pair of lungs are all needed to complete this task, and take your team across the winning line – together.
We can organize this event anywhere throughout Thailand. In the past we have held such events in places such as central Bangkok and surrounding areas, Hua Hin, Prachuap Khiri Khan, Ratchaburi, Kanchanaburi, Pattaya, Rayong, Chonburi, and Khao Yai to name but a few.